Named Data Networking Projects build novel ideas based on the data names. At large, the Named Data Networking is a new data-oriented network paradigm that is often abridged as NDN. In precise, Information / Content -Centric Network (CCN / ICN) has high relation with the NDN. In-depth, NDN builds on practical implications like how people design, search and develop. That's why it uses data names instead of lengthy addresses. 
Why NDN matter?
As we all know, most of the networks use IP based protocols for data transmission. Yet, there still a few issues that exist. Those are,
IP Addressing and Management
Lack of Support for Distributed Systems
Architectural Issues over the Internet
Security and Privacy on Data Transmission
Dependence on Source Address over Content
Thus, NDN becomes as a promising paradigm for future networking. In NDN, the IP Packets thin waist replaces the Content Chunks.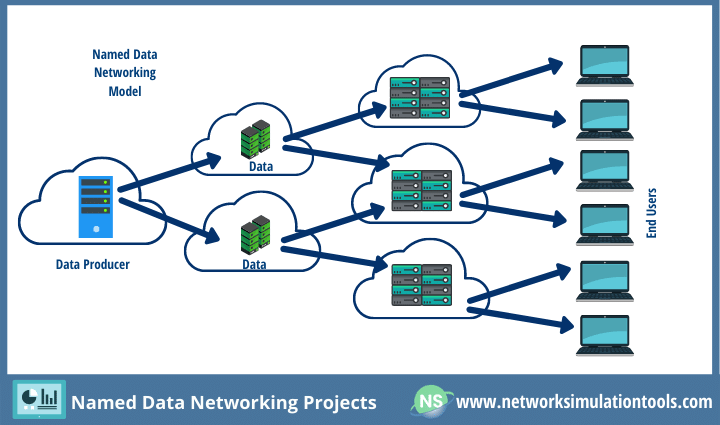 How NDN works?
   NDN differs from networks from other nets; it uses diverse packets and functions. To clarify, Named Data Networking Projects to exchange Interest and data packets. Both packets have the data Name as common. The user (consumer) can request data by interest packets while another user (provider) sends the content through the data packet. To forward the data, the network entity has the following structures. 
Pending Interest Table (PIT)
Forwarding Information Base (FIB)
Content Store (CS)
   In fact, NDN has versatile use cases like video streaming, conferencing, and so on. Also, due to the nature of interest storage and then forwarding, Choose latest PhD projects in video streaming with inputs from experts.  NDN has many challenges too.
NDN Research Directions
Namespaces Management
Trust Models Design
In-network Storage Efficiency
Data Synchronization
Rendezvous, Discovery, and Bootstrapping
At this time, research efforts put forwarding into the above directions. Though it looks ease, each of the directions has a lot to know. In addition to this, the integration of NDN grabs great attention over a few years.
SALIENT IDEAS OVER INTEGRATED NDN NETWORKS
NDN with Space-Grounded Integrated Network
Heterogeneous Architecture for SGI-NDN
Delay Tolerable SGI-NDN Design
Resource Allocation for Energy Efficiency
NDN with Vehicular Ad-hoc Network
Geographic Routing by Directional Antenna based VNDN
Interest Packet Management under SDN
Video Retrieval was driven by NDN for Urban VANET Scenario
NDN with the Internet of Things
The exploitation of Edge and also NDN into Industrial IoT
Network Coding in Enhanced Interest Packet for IoT-5G
QoS Enriched Push-Pull Traffic Routing over IoT
   Besides the above list, NDN is compatible with SDN, MANET, WSN, and 5G HetNets. All in all, we bring unique network research topics under our roof. We have ideas not only on Hybrid Named Data Networking but also in standalone NDN. 
NDN Forthcoming Concepts
Name to Hash Encoding
PID Control in Mobile AR
Blockchain for NDN Security
Data Privacy Preservation
Popularity based Caching Strategy
Feature Name Replacement by ML
PID Entry Control and Schedule
Now, you will give a view on NDN and its research directions. Then, what's next? It is executed as well as evaluation. Unlike other networks, NDN has special tools to model and analyze it. Of course, ndnSIM intends to work for NDN that works along with NS-3. Besides, we also have the ability to handle NDN projects in any other tool like OMNeT++. This or that, the choice is yours; we will not go over force since we are flexible to work with your needs.
To end this, we are open to receive all your demands and feedbacks. With this in mind, we are always clear as crystal to you for your work. You can track your work at any time from any edge of the world. So keep in touch with us online or offline.