Game Theory Network Routing Projects addresses to provide sender-receiver data transmission in any wireless network. Game theory is an interactive model that makes the decision for complex systems too. As a matter of fact, routing plays the main role in network using which the data from one device reaches the other.
Which type of network use Game Theory by more?
   In truth, the game theory adapts to almost all the wireless networks. To be sure it is on sensor networks, that is to attain better performance. In this way, it improves the delivery ratio and, on the other hand, lows down energy usage. Hence the game theory allows designing a routing protocol that is robust. 
Does the Game theory have benefits on Network Routing?
Yes, of course, it has. They are,
Adaptable for Realistic network i.e., Dynamic
Meets different traffic flows
Shortened time to establish a route
Minimization of end-to-end delay
Enrichment of network lifetime
   Since the topic of routing is chief in a network, the game theory gains more attention. To this point, let us give you the three types in it such as cooperative, non-cooperative, and evolutionary. You can study it from our Game Theory Network Routing Projects. In detail, we give the info below.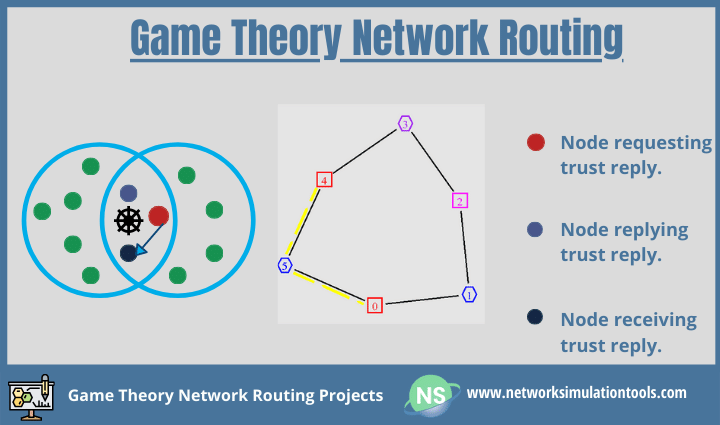 Characteristics of Each Game Theory
Cooperative
Coalitional between input players
Takes into the account of preferences
Bid with mutual requirements
For example:
Reliable Coalition Routing
Probabilistic routes with Stochastic game
And others
Non-Cooperative
Bargaining procedure
Uses network status
Validate with Nash Equilibrium
For example:
Cooperation Optimal Protocol for Multirate Opportunistic
Stackelberg Game theory with energy efficiency
And so on
Evolutionary
Preferences not required
Game and Replicator rules give a stable strategy
Any type of equilibrium
For example:
Evolutionary Routing Game
Game theory routing with k-means clustering
And many more
The five key terms to be in the note of Game Theory are 1. Players, 2. State, 3. Action, 4. Strategy, and 5. Equilibrium. Above all, the games are also of static, dynamic, zero-sum, and non-zero-sum & more. Even with, it prefers a route on the basis of a metric. The metric can be of any as underneath.
Criteria based Routing by Game Theory
Quality of Service
The trustworthiness of the node
Network node behavior
Cost-based route
Energy remained in a node
Why Game Theory Uses Optimization?
The game theory brings out prime choices for routing. Hence it is a type of optimization. At this time, the optimization combines with the game theory that is able to define one and multiple objectives. Hence the idea of this will be the best route selection in the network. To this end, the issues of game theory solve by anyone of the following method.
Optimization in Game Theory Network Routing Projects
Shuffled Frog Leaping
Coral Reefs Optimization
Ant and Bee Colony algorithm
Grey wolf and also PSO
Fuzzy ABC and ACSRO
Moth flame algorithm
And so on
   As we say above, the objective depends on network demands. In order to take corrective actions, the states of the player can be found from any one of the optimizations. Since the route between two nodes will transfer any type of data as sensing reports, live info, video, and so on with our PhD guidance in video streaming. If we define a strong objective, then the route will also assure for data transfer.
Whatever the network may be, it needs a single hop or multi-hop path. So far, the data from a node sent only through a route, and hence it is mandated. From here, the main networks are in the list below.
Other Networks that make use of Game Theory
Wireless Sensor Network 
Wireless Mesh Network (WMN)
Unmanned Aerial Vehicle Network
MANET
Software-Defined Network (SDN)
And also many more 
Beyond this, the game theory also offers to aid with the detection of fault, grouping, select ahead, and more. All in all, we help in all sorts of routing in networks. On the whole, we hope you gain a lot of ideas to work in this area. By still, it is hard while you work alone so that you can take our aid from start to the end.