Network Communication Projects connect each element in the network by firm links. For any network, Communication is the key that aids in attaining its objective. To explain this, each node in the network needs a way to exchange its data (text as well as multimedia) to other nodes. Here, the Communication sets medium between those nodes in the network. The medium may be wireless channels, optical cables, or wired cables. In any form, its objective is the same.
WHAT IS THE CURRENT STATUS?
   At the moment, Communication stands at the edge of 5G and moves towards 6G. In, Transmitters and Receivers are vital for the most part. Network projects both of them, Antenna enables the intended process. In the light of antenna techs, Multiple-Input-Multiple-Output (MIMO) becomes the notable one. Former, MIMO, and massive MIMO are mostly used in Base Station and Sinks as well as on user devices. Later, all network nodes use the MIMO for better performance. 
On the one hand, network communications evolve from day to day. On the other hand, still, there is a lot of issues that need attention.
Research Issues that Affect Network Communication Projects
Interference among channels and users
Heterogeneity of resources and devices
Energy holes during relay-based Communication
Channel Fading and Blocking
Reliability Issues due to lack channel information
Security and Privacy for communicating entities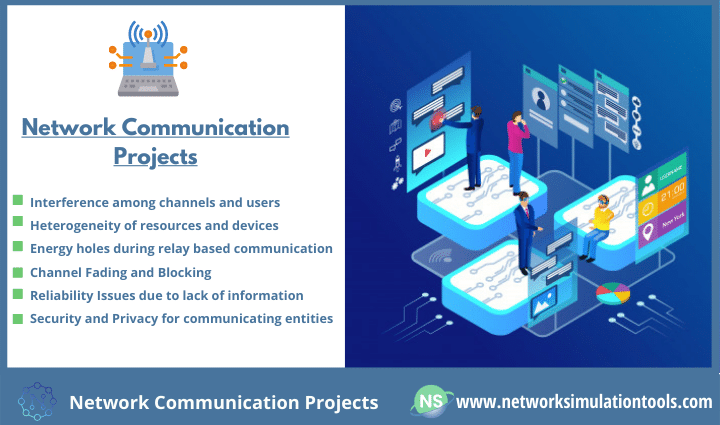 The present research is ongoing on all the above issues. To tackle them, more advanced techs are there. To start with advanced techs, it is main to know about the base. The keyway outs for these issues include in the below.
Uplink and Downlink Synchronization (i.e.) Initial Ranging
Interference Cancellation during Resource Allocation
Geo-location Management for Data Dissemination
Broadcast Storm Mitigation by Optimal Broadcasting
Energy-Efficient Network Management and Node Deployment
Reliable Data Transferring by Error-Coding Technique
Secure Communication is driven by Lightweight Cryptography.
   In broad, Network Communication Projects carry over Single-hop or Multi-hop. In detail, both of them depend upon the routing (single as well as multipath) process. As well, we gathered notable solutions from various classes for you. 
WHAT are THE RECENT TRENDS?
Wireless Solutions over Network Communication Projects
mmWave and THz band for LOS and NLOS Systems
High-Speed Packet Access (HSPA) and HSPA+
Telecommunication Standards (6G, 5G, LTE-M, LTE-A, LTE, etc.)
Massive and Multi-User MIMO Beamforming
WiFi-based Communication (Now uses IEEE 802.11ay)
AUV, UAV, and also Drone Communication
Green and Molecular Communication
Applicable Areas
Internet of Things (Smart Home, Smart city, etc.)
Wireless Monitoring (Disaster, Wildlife, etc.)
Military and Tactile Networks
Optical Solutions over Network Communication
Optical Circuit Switching and Burst Switching
Dense WDM along with Optical Cross Connects
Orbital Angular Momentum Multiplexing Model
Optical Mesh and Transport Data Transmission
Visual MIMO System for Large-Scale Networks
Applicable Areas
Submarine Data Transmission
Flying Vehicle Communication
Industrial Automation
   To be sure, Wireless and Optical are the two main branches of Communication. In the point of fact, wireless suits for short and long-range while optical means for ultra-long range. Most of the networks like SDN, WSN, CRN, Computer Networks, and PhD projects in Ad-hoc network have these as the base. In addition to these, NoC and SoC systems also use these techs for data exchange. By revolution in each day, now we tend to witness the Optical Wireless (i.e.) hybrid system.
Optical Wireless Communication in Networks
Point-to-point Terrestrial Free-space Transmission
Light Fidelity (Li-Fi) by Electro and Radio Frequency
Ultraviolet, Infrared, and Visible Light Communication
Ultra-short and also Ultra-long Range Systems
OWC Over Next-Gen Access and Core Networks
Applicable Areas
   Everyone may have ideas, but pros only can show the feats. As of now, we build 10K+ networking projects in all fields. Still, our clients are at home with us for their future works. This is because they know the worth of our keen help. Know-how our assist at least once, surely you will stay and travel with us. Just ring us and find more and more stuff.