Underwater Sensor Network Projects remain exciting due to environment causes. Underwater sensor network (UWSN) is a network that has a number sensors and vehicles to sense and collect data from underwater. In particular, a vehicle that put to use in UWSN is Unmanned Underwater Vehicles (UUV) or Autonomous Underwater Vehicles (AUV). AUV moves in and around the network for gathering data from the sensors.
In most cases, data collected from sensors may vary due to certain factors as follows
Salinity
Temperature
Pressure
Depth of Transceivers
Environment Geometry
First of all, we discuss the communication types and modulation schemes. Then we talk over the issues and solutions. After that, we define the emerging trends. To this end, we put forward the list of tools for doing UWSN.
UWSN COMMUNICATION TYPES AND RANGES
Radio Frequency (RF) [10-100m]
Magneto-Inductive (MI) []
Optical [10-100m]
Acoustic []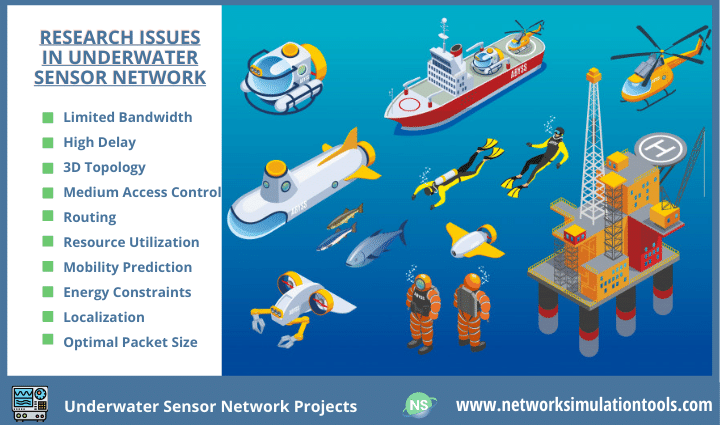 As we know, at the bottom of the sea, the RF signals can travel only to a short distance. The optical signals cannot travel in an unfit medium. It is due to the diffusion of the optical signals. Acoustic signals throw less as compared to radio and optical. It results in better and more useful for UWSN. Similar to communication types, technologies are emerging in this field, too that is follows.
MI Waveguide
And also many more
MODULATION TECHNIQUES
Frequency Shift Keying (FSK)
Phase Shift Keying (PSK)
Multiple Frequency Shift Keying (MFSK)
Orthogonal Frequency Division Multiplexing (OFDM)
Direct Sequence Spread Spectrum (DSSS)
Frequency Hopped Spread Spectrum (FHSS)
Frequency and also Pulse Position Modulation (FPPM and PPM)
What are the Research Issues for Underwater Sensor Network Projects?
   Now, UWSN is facing many issues. For instance, sensors in underwater sensor network simulator are energy constraints and also movable. Thus, energy efficacy and mobility are the key issues in UWSN. Clearly, here we post you the main issues as follows. 
Limited Bandwidth
High Propagation Delay
3D Topology
Medium Access Control
Routing
Resource Utilization
Mobility Prediction
Power and also Energy Constraints
Localization & Optimal Packet Size Selection
To tell the truth, inside of every issue lies a solution. All the issues are line up between process and method. If you don't know about that, it does not matter as we know, the best way to solve them by novel thoughts for your underwater sensor network projects.
PROMISING SOLUTIONS
Energy Efficient Clustering
Gateway Placement
AUV Trajectory Prediction
Range / Range-Free Localization
Data Collection by Multi-AUVs
Inter-Cluster and also Multihop Routing
If your choice is an issue and solution from the above, then we suggest you the best of best method. It is nearly picked from the current years and months. Since we make a note from the survey. It shows both the positivity and negativity sides of each method. Let's look down as we list the key ideas and tools of UWSN.
UWSN EMERGING TRENDS
Energy Equation under Internet of Underwater Things
Dynamic Mobility Prediction over Mobile UWSN
Localization under 3D UWSN through Projection
Void Hole Alleviation in Underwater IoT WSN
Target Search by Multi-AUV in Unknown Field
LIST OF TOOLS AND LANGUAGES SUPPORTS UWSN
NS2 (C, C++, and also oTCL)
NS3 (C++, and Python)
UWSim (C#, .NETframework)
AQUA-Sim (C, C++, and also oTCL)
USNeT (C)
UANT (C++)
SUNRISE (C, C++, and also oTCL)
AQUA-Tools (C, C++, and also oTCL)
To conclude our talk, this reading helps students and scholars in the field of UWSN. In truth, it is a base to gain skills that you want in your area. We put your needs in the first place. As a result, we would not think to request you more money. Last but not least, we must thank our clients for sharing their thoughts and trusting us for projects with our phd guidance. They are connecting with us for a long time. We give hope, so you render your work for the right person.