Cloud Radio Access Network Projects connects with all the end devices with the aid of communication technology. C-RAN is Cloud Radio Access Network that stands for central access, especially in cellular data sharing. To be sure, the baseband unit is a vital part that associates remote radio head (RRH). Here the pool of baseband units acts like a cloud that is able to store and perform operations. 
Why integrate Cloud with RAN?
To reduce the base station deployment charges
For better channel state prediction with low interference
Efficient switching of BBU for remote users
Lowering of the failure rate
High spectral efficiency with any wastage of resources
Then the Present-day Applications of C-RAN
Vehicular communication
Smart device data sharing
Drone live video transmission
Industrial communication
Cellular data transfer
Health care information
Further, this central system has three types, such as 1. Fully centralized, 2. Partially centralized, and 3. Hybrid. The first type functions with layer 1, layer two, and layer 3. On the other hand, the second type deals with layer two and layer 3. So that the mobile network LTE, as well as 5G, embeds into Cloud Radio Access Network Projects.
First of all, know the crucial issues in C-RAN
Network scalability
Consumption of energy on BBU
Harmful security threats and Data privacy
Lack of connectivity at edge cell
Inter-cell interference
Users moving at high speed
The C-RAN design enables to manage any number of base stations for mobile networks by using the idea of network function virtualization. Therefore this idea is a success since it reduces cost and allows many types of traffic into the network. At this time, you need to know all about the areas in C-RAN.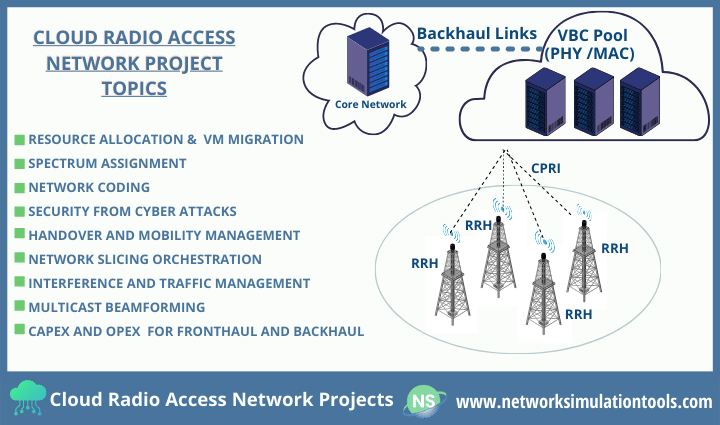 Ubiquitous topics from Cloud Radio Access Network Projects
Resource allocation and VM Migration
Spectrum assignment
Network Coding
Security from cyber attacks
Handover and mobility management
Network slicing orchestration
Interference and traffic management
Multicast beamforming
CAPEX and OPEX for front haul and backhaul
   In recent days, C-RAN combines with Software Defined Network cloud computing, the Internet of things, and Network slicing too. Whatever network it integrates with, the main issue of resource allocation exists. In this way, it presents to manage mobility, bandwidth, delay, and also data rate. In order to achieve anyone of this, a set of the process will be the solution. To make it clear, we give you a set of topics down.       
KNOW SOMETHING ABOUT C-RAN
With the Field of SDN
Adaptive signal modulation
Delay aware Queuing model
Spectrum Auction
Discovery of service and many more
With the Field of IoT
Storage allocation for sensed info
Power saving with the packet type
Load balancing and computation offloading
Adaptive resource prediction
And so on
Later the performance of the cloud radio access network design has to show off its efficiency. With this in mind, we list out a top ten metric here below.
Fronthaul efficiency
Sum rate at each cell and also on the whole
Achievable sum rate
Latency and End-to-End delay
Aggregate utility
Outage probability
Transmission power
Spectral efficiency
MSE and also normalized MSE
Bit error rate
   In conclusion, we hope you have gained a clear idea in Cognitive Radio Projects. Even more, concepts are in the study by our team. In other words, we are flexible with the trend of AI, ML, and so on. From time to time, such advances grow up for tuning and etc. For the most part, it does not ease to learn a part of the method. Unless you know the basics of it, to this end, we would say we are here to help you in all aspects.