Scheduling LTE Projects flew up the thoughts to give users with better data sharing. The LTE stands for Long Term Evolution, which allows broadband services for all type of mobile devices. By the time, eNodeB, i.e., eNB plays a key role in LTE, which equips with a scheduler.
That is to say, 'Scheduling in LTE performs for each subframe on the basis of 1 ms'.
To begin with, the scheduling in LTE deals with the idea of assigning resource blocks (RB) for users as per the scheduler process. An RB defines the little quantity of the resource in the total blocks. Once the user has blocked, then only the user sends as well as receives data.
Get into below to know the need for Scheduling in LTE
The arrival of different amount of traffic with dissimilar data types
The satisfaction of Quality of Service
Mobility of the user equipment in the network
In general, the common type of schedulers in LTE is round-robin, maximum channel quality indicator, and etc. While you need to create a good scheduler, then look down below.
A good LTE scheduler should have the following
Adaptation of the link
Attain higher data rate with power control
Recover error
Control of channel interference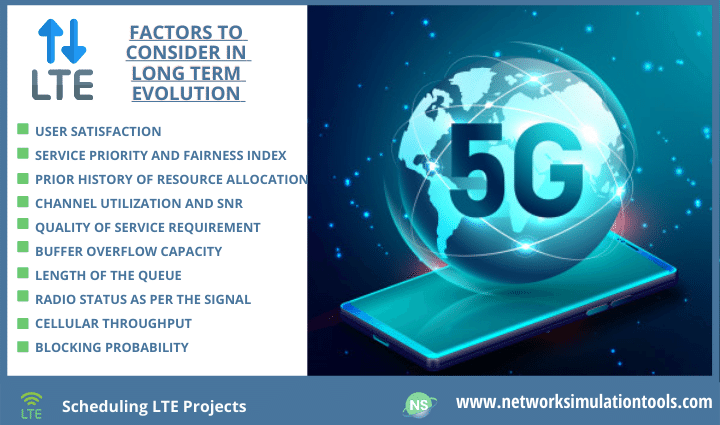 The resource allocation is for V2X Communication, D2D Communication, M2M communication. 5G RAN slicing and so on, to share their data with each other. As of this communication, they need support for both real-time as well as non-real-time services. Due to the change in the traffic type, they differ in the ability to withstand lesser to higher delay.
Default schedulers in the LTE network
Proportional fair
Maximum largest weighted delay first
Exponential rule with proportional fair
LOG-rule
DP-VT-MLWDF
   Not only delay but also changes in the size of the packet, error rate and etc. With this purpose in mind, the key focus of an LTE Simulator scheduling should prefer the following.   
Scheduling in LTE Depends on anyone below
User satisfaction
Service priority and Fairness index
Priori history of resource allocation
Channel utilization and SNR
Quality of Service requirement
Buffer overflow capacity
Length of the queue
Radio status as per the signal
Cellular throughput
Blocking probability
Above all, the idea of scheduling in this way will result in high throughput and spectrum efficiency. Even it is able to provide support for edge users too such as mobile networking projects. Further to improve this, we list out the methods that are in use.
Some algorithms for Scheduling LTE Projects
Multi-agent Q-learning
Genetic algorithm
Dragonfly method
Dynamic actor-critic algorithm
Fair QoS Broker algorithm
MCE-PF and also CAOPF
PRB mapping scheme
Discontinuous reception mechanism
Granularity adjustment algorithm
The MAC schedule is split into three as dynamic, persistent, and semi-persistent. All the three aim to support high QoS on Scheduling LTE Projects. Apart from this, the scheduling also applicable for packets too.
Summing up all your works, we work to build new results. We do not make use of any old copy of code into a new one. Be clear and take your cleaver decision at this instance.